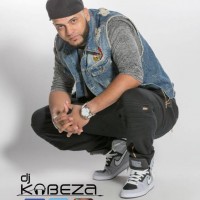 Carlos Baez, AKA DJ Kabeza, is the disc jockey and host of Latina 100.3's "Tapón, Tapón…Bumper to Bumper" show which airs every weekday from 3:00-7:00 PM.  He does a mix-show from 5:00-7:00PM.  Saturday evenings, DJ Kabeza plays the latest hits from 5:00-9:00PM, in his show called "Saturday Night Jams."  As well as working at Latina 100.3, DJ Kabeza currently works as the resident DJ for the Latin Night at ROXY Providence on Saturdays.  For the past several years, he has been DJing at Club Monet, in downtown Providence on Fridays and on Sundays at Providence Southside's Salón de Fiestas Anacaona.  Along with his regular appearances, you can find DJ Kabeza playing the best music in many other spots throughout Rhode Island and New England and in many festivals and community activities.
DJ Kabeza has worked in the radio industry for many years.  Most recently, he worked for Hot 106-Providence's main Hip-Hop radio station.  He has promoted shows for artists such as Don Omar, Anthony Santos, Sergio Vargas, Hector Acosta 'El Torito', Frank Reyes, Plan B, among many others.  He has also ventured into the business world.  He was one of the principal owners of Area4zero1, an upscale men's clothing store and a car dealership in Providence, Rhode Island.  At the moment, he is preparing to open Euphoria Lounge in downtown Providence.
DJ Kabeza has lived in Rhode Island for more than two decades after his family immigrated to this country from the Dominican Republic.  He attended public schools in the cities of Providence and Central Falls and graduated from Central Falls High School.  He has volunteered with many community organizations, primarily with youth sports organizations.  He now lives in Providence with his wife, his mother, and two children.